It is really sad news if you are a man. You may feel that you have done a great job by hiding that little thing within your pants. But be prepared to hide your face as humans have created a penis map of the world.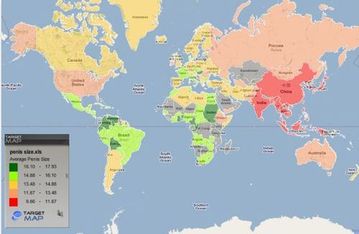 The map clearly shows the average size of the penis of men according to different nations. USA may be a giant country having a huge arms force, but it lags behind many countries in the size of the penis. US men – there is no reason to be worried as you are advanced in many aspects.
As per the facts disclosed in the map, USA ranks 98 out of 112 countries taken into account in this survey. As far the measurement goes, the bigger the number shown on the chart, the lesser will the size of your penis.
USA may be in a dominant position in war with three different nations. But they are ahead of the Americans on this front at least. As per the records shown in the chart, the size of an American penis is 5.1 inches, while that of an Iraq man is 5.7 inches. Afghanistan and Libya are not far behind with penis size 5.3 inches and 5.4 inches respectively.
Hold your breath. Do you believe that the African nation Congo leads the race with an average size of 7.1 inches.