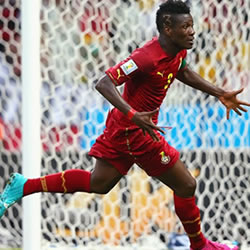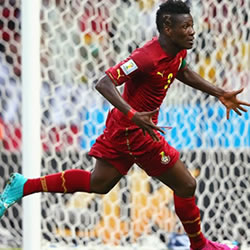 The FIFA World Cup 2014 comes with another surprise as Ghana held the giant Germans in a 2-2 draw in their game the last night in Fortaleza. Asamoah Gyan is the happy and proud captain of this fearless and intelligent Ghana team which is a contender to get through into the second round of the tournament where 16 best football playing nations get a chance.
Last night Gyan was one of the scorers for Ghana, which marked him as the first African player to score at three World Cups and tied Roger Milla of Cameroon as the top-scoring African in World Cup history. The match between Germany and Ghana was 800thtournament game. Adding to the tally of statistics, Gyan notched his tenth game at the tournament after making his debut in 2006 and is now the most capped player of Ghana.
Ghana earned their first point after they faced defeat in their opening game where they matched up against the United States of America. According to the skipper of the Ghanaian side, all of their strategies were put in to practise in the match against the Germans and they could have even successfully dribbled them, but it was only Miroslav Klose who denied the Ghanaians victory.
Ghana has a good chance of getting in to the round of 16 if they can defeat Portugal the next week. The Portuguese side on the other hand struggled to find soil beneath their legs in the first match, where they got defeated to the mighty Germans.