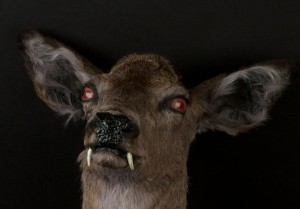 Recent surveys by the Wildlife Conservation Society (WCS) reported the presence of a deer with vampire-like fangs in Kabul recently. Known as the Kashmiri Musk Deer, the animal was spotted more than 60 years ago in the forest slopes of North Afghanistan by a Danish survey team in 1948. There are in fact seven species of deer that live around Asia. More surveys by the WCS have confirmed the presence of the endangered species in the Nooristan Province of Afghanistan.
The survey team has found the presence of five animals on three occasions- two females or one which has been sighed twice, a male and a juvenile. All the musk deer were sighted in the rocky regions with alpine meadows and bushes of rhododendrons and Juniper.
The team could not photograph the animals because they are difficult to spot. The Kashmiri Musk Deer and Snow Leopards are Afghanistan's treasures and important to this struggling nation. The deer is listed as endangered In IUCN Red list primarily because of its loss of habit and poaching. The animal is killed for its scent glands which is considered extremely valuable and can fetch up to $45,000 per kilogram in the black market. Musk has for centuries been used in preparing medicines and perfumes. The male deer uses it fangs to fight off other contenders during the mating season not to suck blood.
The conditions in Afghanistan don't allow NGO's to stay in Nooristan after 2010 but the WCS maintains contact with the local people and will continue funding the methods of protecting the wildlife of Nooristan till conditions improve and allow them to do something for it directly. The authors of the study published in the journal Oryx hope that condition turn in their favor and enable them to observe and conserve these delightful species.