Today is the 47th anniversary of John F. Kennedy assassination, the thirty-fifth President of the United States. Kennedy assassination was a sad event as he was fatally shot to dead by a solitary bullet on his head on November 22, 1963 at 12:30 p.m.in Dallas.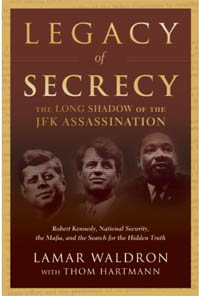 In remembrance of this sad incident, a new film will be produced based on a book "Legacy of Secrecy," written by Lamar Waldron and Thom Hartmann. It has been reported that Leonardo DiCaprio has been signed to play the role of an FBI informant, named Jack Van Laningham who was investigating the case of President Kennedy assassination.
The book was written with a meticulous research work by using thousands of historical data from National Archives that gives us a very clear idea of that period.  In that book we can see that Mafia godfather Carlos Marcello confesses about the entire plot of president's assassination together with Lee Harvey Oswald, who was suspected of gunning down Kennedy, and Jack Ruby. Data says Jack Ruby later shot and killed Oswald.
The book and film mainly focuses on the confession of the alleged Carlos Marcello and Van Laningham's attempts to become intimate to Marcello, who was a crime boss in Louisiana and Texas. The Kennedy assassination had been a plot of many conspiracy theories in the after years. The sad demise made the Kennedy family to be one of the most famous political families in the world.