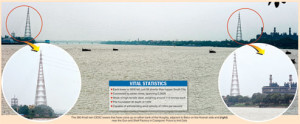 Adding to more skyscrapers in the city, now it is twin tall towers shaking hands across the river Hooghly. These two are CESC' new transmission towers placed on either bank of the river from which the transmission lines emanate. Both of them are 380 feet in height, surprisingly only falling short by five feet from the reigning toper, South City.
The towers will transmit electricity to Howrah and parts of Hooghly district, connecting Cossipore on the Calcutta side to Belur on the Howrah side through seven special wires that hang over the river.
Relying on new engineering techniques and innovations, the CESC which usually opts for underground cabling, this time has gone overhead and hanging over the river. The tower heights were decided in consultation with the Calcutta Port Trust which had specified that a minimum of 25 metres gap between the lowest point of the lowermost conductor cable and the highest flood-water level.
The base of the towers lie beneath the soil at a depth of 37 metres and the tower has been structurally strengthened to withstand wind velocity as high as 100 metres per second. After landfall on either side, the cables again go underground again to the existing systems of CESC.
Satya Kumar Sinha, executive director of CESC said that the estimated expenditure incurred for the overhead line-crossing was around Rs.14 crores whereas the underground cabling involved Rs.20 crores. Sinha who was responsible for the setting up of entire system exclaimed that the engineers had to face tough challenges but ultimately it was hard work and intelligence that resulted in a good scenario.