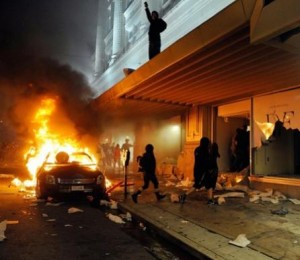 Fans of Vancouver Canucks became angry and drunken as their favorite team lost to Boston Bruins by 4-0 in the Game 7 of the Stanley Cup finals. They set ablaze the cars on the roads and the garbage cans, smashed the roadside windows. They also threw beer bottles towards the giant TV screens. They were also seen dancing on the top of the overturned and burnt out vehicles.
Sports fans turned into looters as they smashed the windows and entered into the department stores. They were seen taking away T-shirts and whatever they came on their way in a departmental store. Even young women were there in the crowd and they were seen to be running away with MAC cosmetics. One was also seen running away with part of a mannequin.
Smoke was found to be coming out of the landmark building as hooligans were seen coming out with their face covered with bandannas and the violence continued. People were asked to remain out of the Central Downtown area and the police and firefighters have been pressed into service. Even the police cars were not spared and they were also put on fire. Mayor Robertson said, ""The vast majority of people who were in the downtown tonight were there to enjoy the game in a peaceful and respectful manner. It is unfortunate that a small number of people intent on criminal activity have turned pockets of the downtown into areas involving destruction of property and confrontations with police."
It was for 39 years that Boston Bruins was without a championship title and finally when they lifted the Stanley Cup, thousand hearts broke into joy. The cup will now head for the hub of hockey.
37 years old Thomas played a splendid performance and he made 37 saves in the entire game. Patrice Bergeron and Brad Marchand each scored two goals and Boston Bruins went on to beating the Canucks by 4-0 and won their first NHL title since the year 1972.