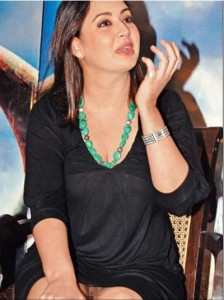 Why Bollywood heroines are not wearing panties these days? Why they are appearing in public events without wearing any underwear? Media reports have stated that after Yana Gupta, it is now Preeti Jhangiani who is drawing huge attention after appearing in a public event without any underwear.
People say that those who have been out of headlines for long, think it to be a easy way to get access to stardom and fame. Preeti Jhangiani was there to promote her debut film as producer. The film is named Sahi Dhande, Galat Bandhe and she is producing it with her hubby Parvin Dabas.
It was in this event that the lensmen caught her in this pose and within hours, name of Preeti Jhangiani has appeared on the list of Bollywood ladies who have appeared in public place without their essentials. Yana Gupta was smart enough to accept the fact in her social networking websites that she is a no panty girl. God knows when this series of Bollywood girls appearing panty less will come to an end.