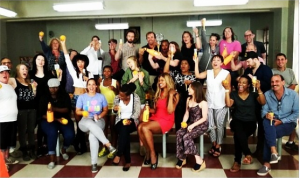 Recently there was a buzz regarding American comedy-drama series of Orange Is The New Black third season has been cancelled causing thousands of fans' disappointment which was clearly reflected by the explosive tweets and social media comments coming from them. But here is a good news as Netflix has confirmed this to be a rumor and the series is not going to be cancelled.
Fans became outrageous with the news published on Empire News claiming the Orange Is The New Black's third season had been axed. Moreover, the website wrote that the first two seasons would be permanently removed from Netflix.
This most talked about American comedy-drama series Orange Is the New Black was created by Jenji Kohan and it was first released on Netflix on July 11, 2013. The story is based on Piper Kerman's memoir, Orange Is the New Black: My Year in a Women's Prison, where the author wrote her experiences in prison. The second season has been premiered last month on June 6. After a huge success of this show Netflix is now planning to premier third season.
Orange Is The New Black: Recent Achievements
On July 10th, 2014, the comedy-drama series has got 12 Primetime Emmy Award nominations. For the first time it created a history when the first transgender actress Laverne Cox was nominated for "Outstanding Guest Actress in a Comedy Series" award for her marvelous performance as inmate "Sophia Burset" in the popular Netflix show "Orange Is The New Black".