You can call it another celebrity jailbreak. But this time, it is legal. In the Lindsay Lohan theft case, at first the judge ordered sentencing the celebrity to 120 days in jail and 480 hours of community service.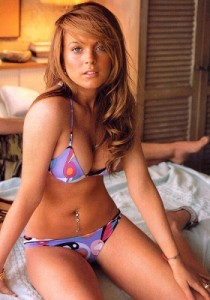 Within five hours of announcing this judgment, Lindsay Lohan was out on bail by paying $75,000 as bail bond. She made the payment with the help of her trusty bail bondsman and her attorney is pending the appeal against today's ruling.
Lindsay Lohan was released from Century Regional Detention Facility in Lynwood, California and it was around 9.30PM. Getting released she was driven off in a black SUV with a police escort.
The singer has been accused of trying to steal a $2500 necklace from a reputed jewelry showroom and the trial against the star is getting a lot of media attention. Some people are saying that she is coming to the courtroom in sexy outfits and it is not permissible to come into the courtroom in such sexy outfits.
Some people are also of the opinion that celebrity status of Lindsay Lohan is the main cause of judge giving such a punishment to her. The gravity of the crime was not that intense. As arguments and counter logic goes on, Lindsay Lohan and the jewelry shop continues to get publicity out of the matter.