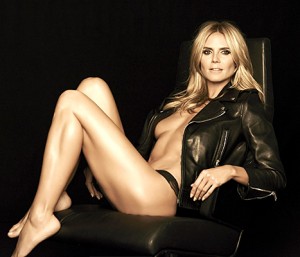 When a celebrity wants to create a hullabaloo in media, the first thing they do is removing her clothes and pose nude in front of camera. Be it any aspiring model or popular actress like Heidi Klum people always pay a great deal of attention whenever there is some news like this as we are going to unveil in front of our readers. It is not a very rare for the supermodels to pose nude in ads. Earlier we have seen actress Kim Kardashian also posed nude for a popular magazine's cover page.
Well, that's the same thing actress Heidi Klum has done at "Project Runway" while promoting its ninth season, which will premier on July 28 on Lifetime.
In the new ad, host and former Victoria's Secret model Heidi Klum has posed totally nude wearing only a pink tie while using her "Make it work"-tattooed arm to cover her bared chest.
"This is definitely sexier than past campaigns we've done," the 38-year-old tells People magazine. "I guess you could say 'Hans and Franz' are celebrating season 9."
In the show Project Runway viewers will see Klum along with fellow judges Nina Garcia and Michael Kors and mentor Tim Gunn and they are all returning to offer their honest critiques of the work produced by the 20 chosen designers vying for the top prize.
Kim Kardashian, Christina Ricci, Zoe Saldana and Malin Akerman are all seemingly among the star judges that will be featured this season.