After the FBI has arrested the chief executives of three major online poker companies, the future of online poker games is really at stake. Within few days, the individual accounts of all the online poker players got frozen as there were charges of money laundering and illegal casino operations.
In a massive raid conducted by the FBI, about 76 bank accounts operating in 14 countries have got frozen because of this online poker shutdown. This will prevent the players from accessing their current balances which were being held by the online poker companies.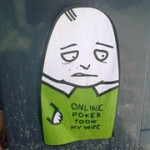 The three online poker companies which have been under online poker shut down include Poker Stars, Full Tilt Poker and Absolute Poker. Their websites are displaying the notices that the domain has been seized by the FBI.
FBI will be investigating into these funds and the accounts and see whether they belong to any profit by any illegal enterprise. In the year 2006, US has enacted a law by which banks will not be able to process payments to the offshore gambling websites Poker Stars, Full Tilt and Absolute. In total, five domains have been blocked by the FBI and these domains are Pokerstars.com, Fulltiltpoker.com, Absolutepoker.com, Ultimatebet.com and UB.com.
The FBI has accused the above mentioned three companies to use fraudulent means and use different tricks to make the banks process payments on their behalf. The Government may ask for minimum $3 billion in the form of penalties and forfeitures against these online poker shutdown.
But lawyers feel that the players who were doing the bet were mere customers and shall not be prosecuted under US Law in this online poker shutdown. In March, Wynn Resorts Ltd has made an alliance with Poker Stars, the largest online poker company in the world. But with the recent developments, Wynn Resorts has cancelled the deal with the parent company. Walt Disney has also announced that they are going to move the advertisements on online poker games.