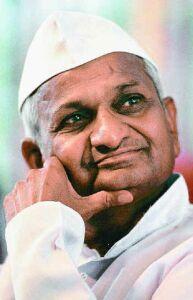 Discussions are going on at the different Government level on the presentation of strong Lokpal Bill in the Parliament. At the same time, noted social activist Anna Hazare started an indefinite fast till death demanding a stronger version of the Lokpal Bill.
To become a law, a bill needs to be passed in both houses of the Parliament. The Government first tried to pass the bill in the year 1969 and though it was passed in Lok Sabha, surprisingly it was not passed in the Rajya Sabha. The Lokpal bill is supposed to be the longest pending bill in the Parliament; may be older than the Women's Reservation Bill.
But now Sonia Gandhi led National Advisory Council (NAC) have joined hands with representatives of civil society to enact it into a tough law. The pressure is mounting on the government as more corruption by the public servants are getting exposed with every passing day. If this law is enacted, ombudsmen will be set up where common man can walk in without any fear and lodge complaints against public servants and elected representatives without any fear.
The Sub-committee of group of ministers has refused to form a joint committee with the representatives of the civil society. Instead they have urged the civil society people to go through the draft of the LokPal Bill clause by clause and suggest necessary changes.
The fast unto death by the noted social activist Anna Hazare has given a new twist to the proposition. Bihar deputy Chief Minister SK Modi has already given his support to Anna Hazare.
What was lacking on the part of the Government ministers is to enact fast on this bill. They have refused to give a proper time frame to the enactment of the bill and the indefinite fast decision by Anna Hazare may make the movement of India against corruption a bit faster.
The discussions on this Lokpal Bill which proposes to fight for India against corruption is going on for the past 42 years and the corruption of the bureaucracy and elected representatives is going on in full swing.
The ministerial sub-committee consisted of Defence Minister A.K. Antony, Union Telecom Minister Kapil Sibal, Union Law Minister M. Veerappa Moily and MoS in the Prime Minister's Office V. Narayanswamy.