The three young stars of the sensational movie "Harry Potter" started out their career as some nameless British school kids. After casting for nine years as Harry Potter casts they are now known as rich, celebrated young adults having a brighter future ahead of them.
The shooting and production of the recent fantasy based Harry Potter series has ended of late and the world premier of its upcoming Deathly Hallows: Part 1″ is getting a bash  in London on Thursday. Following are brief portrayal of the lead actor Daniel Radcliffe (Harry Potter), Emma Watson (Hermione Granger) along with Rupert Grint (Ron Weasley).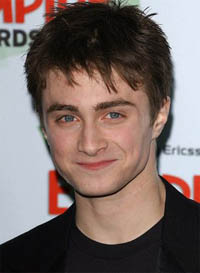 Actor DANIEL RADCLIFFE popularly known as Harry Potter just turned 21 had been casted as the bespectacled boy wizard in 2000. Before that he played the role of young David Copperfield in a British TV version of the Dickens classic. He made his first debut in 2001 in the movie "The Tailor of Panama." Possibly Radcliffe wanted to break out his Potter persona after finishing his school when he was 18. He got critical honor for his role in the 2007 London and Broadway stage revivals of "Equus", where the character demanded him to be nude. He also acted in the 2007 Australian indie movie "December Boys" and the British TV war film "My Boy Jack".
According to grape vine Radcliffe has earned a fortune that worth around 40 million pounds ($65 million). He is at present working on a movie adaptation of horror story "The Woman in Black" and has been cast in the 2011 Broadway revival named "How to Succeed in Business Without Really Trying."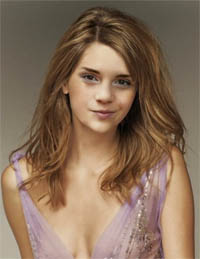 EMMA WATSON has just crossed her teens and is now only 20 years old. When she was at age nine and acted in some school plays she decided only to focus on her studies rather than working full time as an actress as she was already studying at the esteemed U.S. University Brown. Recently she cut off her long and curvy brown hair which has created a buzz among her millions of fans. When asked she told to media that she wanted to celebrate the end of her character playing as Hermione. In 2007, she performed in the British TV version of the fiction "Ballet Shoes" and did voice-over job animated movie in 2008 named "The Tale of Despereaux".
Watson, till now has earned a fortune of nearly 20 million pounds ($32 million), is presently working on a small role in the 2011 British movie "My Week with Marilyn". She is also working as a creative advisor for People Tree- the fair trade fashion brand.
Another actor of the trio called RUPERT GRINT has recently turned 22 and is the eldest performer of the trio. Rupert, as we all are familiar to see him in the Harry Potter series, looks far different from the character and he has gone through a massive external changes. Red-haired Rupert, whose prior experience was restricted to school plays, was the first to emerge as a performer through the movie "Harry Potter".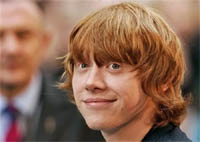 The actor was casted in 2002 British comedy movie "Thunderpants" which didn't receive much acclamation. Again in 2006 he acted in "Driving Lessons" which was able to get better response. Earlier this year two of his movies were released in Britain. One is the edgy drama "Cherrybomb" where the audience saw him shirtless, and another one is a comedy movie named "Wild Target". Grint being a little careless left school at an early at age 16, to focus on his acting career and voice-over work.
Grint, in his short span of time has earned an expected wealth of more than 9 million pounds ($15 million). The next movie he will appear as the British 1988 Olympic ski jumping wonder Eddie "The Eagle" Edwards in a film. ($1 = .618O GBP)