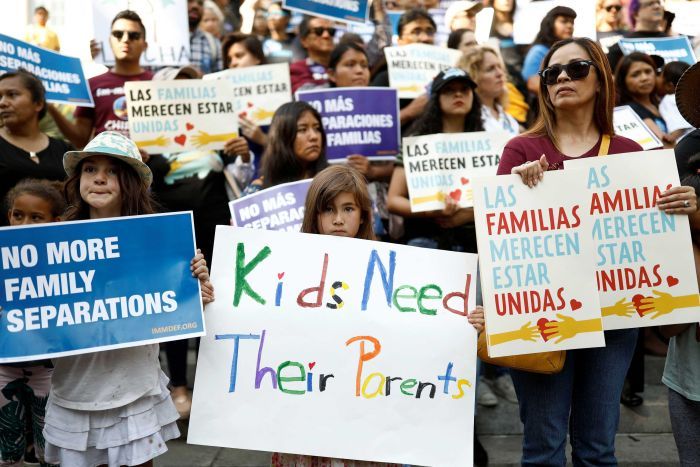 There is a popular saying that God has created parents as He cannot be present everywhere at the same time. So, he sends parents to protect His children from every problem. We, too somehow believe the fact that our parents are the reflection of the great Almighty. But have you ever thought of getting separated from them forcefully? This is what is happening in the U.S. with the children who were immigrated to America from Mexico. This is what Donald trump's immigration policy all about.
The immigration policy or to be more specific the illegal immigration to the United States was a kind of a signature issue of Donald Trump's Presidential campaign. The immigrants who apply for US citizenship are repeatedly blamed as criminals although detailed studies had proved that their incarceration rates are far lower than the native-born.
Trump's hallmark pledge always was to build up a substantial wall on the United States-Mexico border. The families were broken. According to the policy the parents were estranged from their children. The immigrants were deported, leaving their children back in America in most of the cases. Sometimes even before the deportation getting in progress, the immigrant attorneys had to introduce their clients with the fact of separation of them from their children. To some families, this partition acted as the only way to save the life of their child. Such pathetic is the decision that one of the immigrant mother's in the immigrant court cried out in front of the judge, pleading for a reunification with her son.
Embarkation results in intricate court cases:
When the administration started to separate the immigrant families, who crossed the United States-Mexico border without permission, from their children, the parents were kept in detention near the border, from which hundreds of immigrants were found eligible to be deported.
The separated children were taken care of properly. They have been put into Health and Human Services custody and offered their own court proceedings. The anti-human trafficking laws in the U.S and the court settlements also gave the children protections that are not given to the families or the adults of illegal immigration cases.
The depth of the situation can be explained by an example. The ACLU one stated their experience while discussing the case matter with one immigrant father. When the father was told about the separation policy, the meeting remained unfinished as he could not prevent himself from crying about the fact that he is to be divided from his son.
Children are connected with their parents by an invisible chord which gets hurt when you try to separate them from one other. Understanding the inhumanity of the visa USA rules, the supreme court of the U.S has ordered Trump to reunite the children with their parents within July 26, 2018. Though the U.S government has failed to meet the deadline, the reunification process is on.