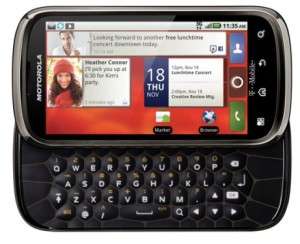 Now Motorola brings a power-packed Android device named Cliq 2 which will b available on T-Mobile Network. This handset is the latest version of its predecessor, the Motorola Cliq, where users will get a enhanced build, together with Android 2.2 as well as Adobe Flash Player Support. Those who are looking for really high speed mobile experience the phone features 1GHz processor just to cater them. It also contains exclusive features like MOTOBLUR. The Motorola Cliq 2 encompasses a 5-megapixel camera to provide high quality photographs. But it delivers a camera interface that repairs the bugs that were found within the prior Cliq's camera interface.
One of the main attributes of the Motorola Cliq 2 was its facility to deal with a range of social networking, gaming, extraordinary Internet browsing capability, plus other Android applications. Though its battery life is quite average and one will need to carry an extra charger or two if his overall phone usage is very high. But there are numerous clever tiny tricks the Motorola Cliq 2 is gifted of, so in general the handset is quite a great buy.
Design
The most significant transformation on the Motorola Cliq 2 is its revamped slide-out QWERTY keyboard, which is modified to remind you of a honeycomb in a beehive. Moreover this unique keyboard design looks very beautiful. The users will surely enjoy typing on its rubberized keys as they are very convenient to use.
The Motorola Cliq 2 comes with a 3.7-inch wide 854 x 480-pixel capacitive. It is a high-resolution screen is ideal for viewing high-definition hit movies and 3D gaming. The minuscule band of Menu, Home, Back buttons are a little too small because of the LCD's bigger real estate, but it doesn't hamper the user experience significantly since we are getting a larger monitor. The Motorola Cliq 2 includes a normal set of external controls, which comprises of a bare USB terminal, 3.5mm audio jack, volume control, Power/Lock button and also the Camera button. The Motorola Cliq 2 incorporates a Silent lock switch, to set the phone in Silent mode without having to unlock the display.
On the reverse side of the Motorola Cliq 2 you will see 5-megapixel camera lens plus a LED flash live. The grooved pattern on the back looks quite impressive. Motorola Cliq 2 can hold up to 32GB of MicroSD card storage.
Software and Interface
Motorola Cliq 2 being a high end smartphone device incorporates a speedy 1GHz processor in addition to Android 2.2 for an improved navigational experience. It is also compatible with Flash 10.1 content. But it's the MOTOBLUR feature rises the Motorola Cliq 2 far ahead than its competitors like the Motorola Droid 2 as well as T-Mobile G2. For example, MOTOBLUR integrates Google, Facebook, Twitter, MySpace, LinkedIn, Photobucket and more when it comes to social networking accounts. The Motorola Cliq 2 dispplays widgets that allowed users to set their priority contacts for quick communication, and the Social Networking Widget shows status updates and facilitates users to contact anyone via email, text message, phone, Facebook or others from right inside the widget.