Sprint today made an official announcement saying that it's HTC EVO 4G LTE will be available from May 18 onwards and its expected price will be just $199.99.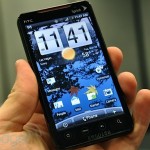 Buyers who were keenly waiting for the release of this handset need to sign up for a two-year contract with Sprint. Everybody knew that HTC EVO 4G LTE pre-orders has been started already on May 7.
HTC EVO 4G LTE was unveiled by Sprint last month and it happens to be the 6th EVO device. Technically it's the part of HTC's new One line, but the Network carrier surprised us by deciding not to go with the "One" moniker. The device comes with a 4.7-inch, 1280-by-720-pixel super LCD. But you will be amaed to see this extremely thin and lightweight handset which measures only 5.3 by 2.7 by 0.35 inches (HWD) and weighs 4.7 ounces. The device is powered by a 1.5-GHz, dual-core Qualcomm Snapdragon S4 processor which is undeniably very much powerful.
The EVO 4G LTE also comprises of an 8-megapixel camera accompanied by ImageSense, offering "ridiculously fast" photographing experience.  Moreover, you will get a 1.3-megapixel, front-facing camera useful for self portraits and video conferencing.
Users will be happy to have such an advanced technology with the device which is known as HD Voice. It ensures the users to receive much clearer voice phone calls.