China witnessed a trade deficit of $1.02 billion during the period January to March in the current year. This is considered to be the first quarterly trade deficit of China in the past six years.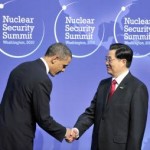 As per the report released by the General Administration of Customs, the country witnessed a trade surplus of $13.91 in the corresponding period last year. But the authorities claimed that trade was stronger as exports volume during the volume crossed $800 million. This is an increase of 26% than the last year. The rise in trade deficit is due to the factor that imports have grown at the same time by 32% than the previous year.
Chinese authorities say that the Japanese earthquake also has an impact on the China market, since Japan is one of the biggest trade partners of China. Due to the earthquake in Japan last month, manufacturing of many of their automobile parts have stopped and imports of Japanese products in the Chinese market has stopped over the past one month.
Chinese officials are of the view that lesser imports of electronic parts from Japan has affected the production of computers, automobiles and electronic products in China. As a consequence export of those finished goods from China has also gone down over the past one month.
But experts are seeing a white line in the black from the fact that the month of March has seen a small trade surplus which is expected to grow further in the coming months.