Recently internet was flooded with the queries regarding UbiSlate 7, which is the upgraded version of the Aakash tablet. This is the world's cheapest tablet device which is priced at only Rs.2999/- in India.
The upgraded Aakash 2 is sold out for the month of January and February. Customers who are looking forward to grab this amazing deal will be happy to know that DataWind is currently taking pre-orders for the month of March only. The pre-bookings for the UbiSlate 7 were started last month together with Aakash tablet online release. The Aakash tablet, also publicized as the world's cheapest tablet PC, is all sold out within a week after it's online launch. The UbiSlate 7 a.k.a Aakash 2 is an upgraded version of the original Aakash tablet. The UbiSlate 7 will be running on Android 2.3 Gingerbread operating system and is supported by powered by Cortex A8 – 700 MHz processor for a better power back up. The tablet has a 3200 mAh battery. The UbiSlate 7 supports Wi-Fi and GPRS connectivity. Also, it has SIM and phone functionality.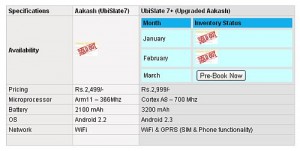 Besides the newly released Aakash 2 tablet DataWind has sold 14 lakh units of the Aakash tablet in just two weeks after it was put up for sale online. After seeing its unexpected market demand DataWind  now plans to set up three new factories in Cochin, Hyderabad and Noida to meet up the consumer's expectations. The online shopping site NCarry.com has also sold out its entire stock of 30,000 units of the Aakash tablet. DataWind may perhaps  start the delivery of Aakash tablet in mid-January.