If you are a frequent traveler and always carry an iPhone or iPad with yourself, then TripAdvisor brings an amazing app for the users like you. Trip Advisor is a quite familiar name among the people who love to travel a lot. It provides all necessary tips and suggestions for almost any type of traveler so that they can enjoy their vacation without any difficulty.
The TripAdvisor iPhone and iPad app has been designed in a much uncomplicated manner, making it more useful for the travelers as they can get every necessary information right on their palm with a few clicks. After all, nobody wants to waste their precious holiday in searching some place to eat at: they simply want to find out where to go right now.
You can enter the name of your current location with the app, otherwise there is an option that lets the users just manually type in their location and start discovering places near them. The app helps to search you good hotels, eating places, things to do, as well as book flights with a few finger taps. On the very top of the home page there is a general search option that makes searching much easier. TripAdvisor provides a listing of suggestions as you type anything on the search bar, so if you don't know the full name of anything you want, you don't need to bother. Just follow the suggestions and select your choice and the app will fill up in the rest.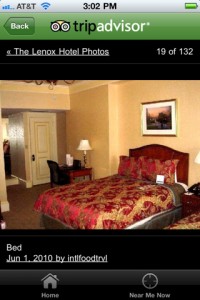 There is another brilliant option called, "Near Me Now" which facilitates the users to see what's going on in their immediate vicinity. The app also allows writing review or feedback regarding any hotel, events or their own experiences of the journey at different travel forums.
The simple and pleasing graphics have made the app very popular among its users. TripAdvisor also incorporates Google maps that allow everybody to locate any place accurately. This is extremely informative app that nobody should miss.
According to me this app is worth recommendations and anyone who is travelling abroad or trying to discover new food joints should go for it. Since TripAdvisor gets sufficient traffic that ensures unbiased reviews, so you can definitely rely on it and plan your trip accordingly. the app is offered at free of cost to the iPhone and iPad users.