Rachel Uchitel, who is famously known as the former mistress of Tiger Woods, announced on Tuesday that she is into her fifth month of pregnancy. She has been tweeting pictures to mark the occasion. She is shown in the picture embracing her new husband, Matt Hahn with her baby bump fully visible.
The resident of New York tweeted in the lines of expecting wonderful things in 2012 and also talked of five months having passed and four to go. The picture was accompanied with a tag of being her baby bump post five months.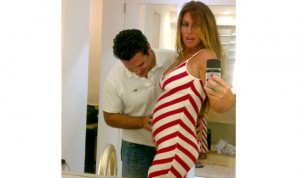 36 year old Uchitel has said that if she delivered a boy, she hoped that he would get the same handsome looks of his father.
Uchitel has been a regular feature in tabloids after it was disclosed that she was a party planner in Manhattan. She was Tiger Woods' first mistress in his infamous infidelity saga and started off the chain reaction that saw more than 12 women emerge with stories of their affairs with the famous golfer, who was married at that point of time. This acquired fame even made her part of the show "Celebrity Rehab with Dr. Drew" in which she asked for guidance against her so called love addiction.
Years ago, Uchitel had earned notoriety courtesy a famous photo in the newspaper in which she was seen mourning the death of Andy O'Grady, who was her fiancée at a point of time. Grady, who was a businessman, had died in the World Trade Center attacks on 11th September, 2001.