While BrightStar Care is one of the rapidly rising providers of health care for people of every age, does the CEO of BrightStar, Shelly Sun use its services to take care of her twin 6 year old sons when she's away shooting for Undercover Boss?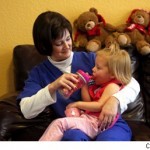 Shelly Sun says "Certainly I would if I didn't have my in-laws and husband to take care of my sons". She adds that employees of BrightStar are trustworthy and will always be willing to help people whenever required.
BrightStar was started as a franchisee by Shelly and J. D in the year 2005. Today it proudly employs around 11,000 employees and operates from 37 states in the United States of America. Their client base has grown to 10,000 families catering to people of all age along with facilities like hospitals, nursing homes, and offices with round the clock availability of doctors.
Shelly and J.D have divided the tasks well to manage BrightStar efficiently. There was no tug of war in Shelly being the CEO and J.D taking care of sales and franchisee development.
The Kid Care program of BrightStar contributes a tenth of the revenues of the whole firm. They want to increase its contribution to 25% to the share of total business. This program was introduced in 2009 after being inspired by their twins. They needed trained baby care support and not part-time babysitters.
Shelly and J.D were happy with the fact that they were able to cater to twice the needs of their clients. They had tendered small kids with all their requirements and set up Skype accounts to let the geographically distanced family come close and communicate with each other. BrightStar also provides temporary services to employees who are on vacation and need to be taken care. Shelly worked in California and Ohio too. Shelly and J.D have known the importance of their service since they experienced the loss of their family members.
BrightStar is on its way to improving their client base, being more responsible in caring for their clients by creating more opportunities, and making every body's life beautiful.