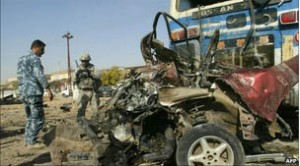 A series of bomb blasts across the country have taken many lives in Iraq. The series of bomb blasts seemed to be a coordinated one and the biggest one was the blast of the car bomb in the city of Baghdad.
The car bomb blasted near a police station in Baghdad, killing 15 people and injuring more than 50. The police station and the nearby houses are devastated completely and the damage is supposed to have spread to half a mile.
Car bomb explosions have also been reported from Kirkuk, Basra, Ramadi, Karbala killing dozens of people and injuring many. These attacks have also seen the rise of civilian deaths in the month of August.
Another bomb blasted in the southern city of Kut, where a suicide bomb blast killed 14 people and injured 70. Most of the people killed are seemed to be police personnel. The attacks has been planned in order to decline the confidence of the public on the Iraq police and security forces.
The American forces have announced the deadline of August 31st after which they have planned to renew their operations in this war trodden country. The US forces are also going to help the Iraq security forces in the combat operations. US military officials have said that the numbers of US troops in war affected country has fallen to around 50,000 and they are expected to assist the Iraqi forces till 2011. They will continue training of the Iraqi forces till that time and will use weapons only at the request of the Iraqi Government or self defense.