We all know that 'Women' and 'shopping' are almost synonymous. Though men are no longer far behind from women in this field, especially when it comes to fashionable accessories and attire, today's men have also grown to be quite trendy.  This has been possible due to the boom of shopping malls in Indian society. Since we can now check all types of trendy and stylish clothing as well as accessories under the same roof, so shopping has become much easier matter.
I mostly prefer shopping at Shoppers Stop in Elgin Read as I find it one of the friendliest places and I feel never tired of shopping there. It is really difficult to go out to the mall and not find anything exciting to buy. Like every year, this year I also visited Shoppers Stop as Christmas season is soon to arrive and I needed to buy few dresses and accessories before the celebration starts.  Here I am sharing you my Christmas shopping adventure at Shoppers Stop. Apart from buying few gift items for my friends and cousins I purchased several items for myself.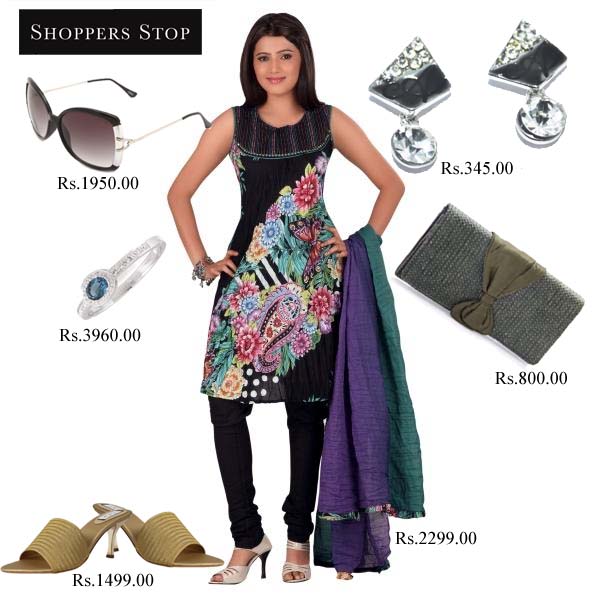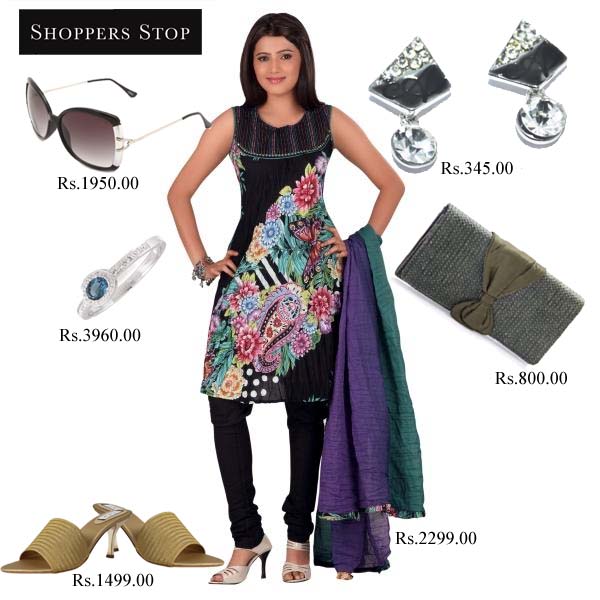 I generally prefer traditional Indian look, because it perfectly justify my sense of styling and elegance. This time I was looking for some casual Indian attire that is suitable for outdoor winter parties during daytime and I want my dress to be not very warm or too cold. Shopper Stop has brought their latest collections of Churidar-Kurta sets. Among them I found BIBA's ethnic Churidar-Kurta-Duppatta set with Fusion Print quite attractive and vibrant. It costs around Rs.2299.00
I have a special liking for sunglasses. So a pair of IDEE Ladies Sunglasses seemed very attractive buy for me. It has got a shell frame that looks very chic and the sunglass protects your eyes from harmful UV rays. Its price is Rs.1950.00.
How can I forget a pair of nice and fashionable earring set? My dress would be looking incomplete without this crystal fitted black and white earrings. They are pretty awesome. A set of Pretty Women Earring costs Rs.345.00… quite affordable..Isn't it?
Though I have plenty of designer bangles, but this one was simply unmatched. I became quite greedy after my eyes fell on the Rhodium plated Infinity Bangle studded with Montana crystals.
Wearing beautiful high heel sandals always add glamour to your style. So this time I got myself a pair of sexy golden high heel sandals for evening wear. It cost me around 1499.00.
Attractive, elegant, stunning and gorgeous..these four words perfectly describes my Sanjara Jhuti Green Wallet from Baggit. It priced around Rs.800.00 and without this nice wallet my entire fashion statement would have gone unnoticed.
If you like the items I purchased, then visit Shoppers Stop website and shop online sitting at home.
 This article has been written as an entry for the SHOPPERS STOP PERFECT LOOK CONTEST   organised by Indiblogger and Shoppers Stop.