Tony Romo, the quarterback for the Dallas Cowboys, has finally tied the knot this Saturday. The bride was none other than the pageant queen and popular TV reporter Candice Crawford. As per the news report nearly 600 guests attended the wedding ceremony.
Among those in the list of invitees, singer Ashanti and former Dallas Cowboy Troy Aikman, the 'Gossip Girl' star Chace Crawford and brother of the bride — and Jerry Jones were the most prominent names. Jerry Jones is the Cowboys' owner and he was seeking league approval to be present at the event during the NFL lockout.
The couple met each other in mid-December 2008; they reportedly started dating in the summer of 2009. Romo had already ended his two-year relation with Jessica Simpson by late July 2009. Besides Jessica, Carrie Underwood and Sophia Bush were two of his famous exes.
The couple followed all the wedding traditions like registering for gifts, making a wish list at Crate & Barrel and Macy's.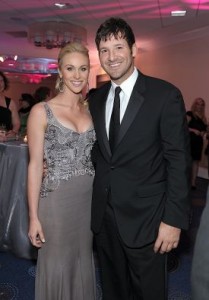 The reception was organized at Arlington Hall, which is a historic mansion at the Dallas' Lee Park. The bride, 24, recently told Dallas Cowboys blog Blue Star, "You dream about this as a little girl…You don't dream, though, that Badgley Mischka is going to do your bridesmaids' dresses, and you don't dream that people are going to give you the support that they have. So we're just really thankful…Getting married is an exciting, sacred thing."